If not, you are missing out on one of life's greatest pleasures.
You see, dolce far niente is the Italian art of doing NOTHING. Yes, absolutely nothing and gloriously savoring every sweet, idle second of it.
I know…hard to do in a culture like ours that places so much value on being busy all the time and on top of that, a culture that suffers greatly from a lack of leisure pleasure. Being busy is a badge of honor, and something that I was always proud to claim. However, now in my rocking 40's, I've come to understand that constant busyness is detrimental to my well-being and those around me. When you're busy, you aren't present, and you forget to dream. Being busy robs you from enjoying those sweet, glorious, idle moments.
Interestingly, most European and Latin American countries greatly value leisure time and actively commit and practice the concept. It is part of everyday life and they do it very well, whether it's taking a siesta, spending time at a café watching the world go by, or simply drinking wine and enjoying the sunset.
Today I had a brief moment of dolce far niente that grounded me and brought a smile to my heart.
We had just finished my younger son's piano recital and walked out into a pretty courtyard. I followed my father's lead and sat on a bench underneath a beautiful sycamore tree with golden angels hanging from the branches. My mom stood beside my dad admiring the nearby cascading water fountain, while my kids frolicked around, and my husband chased after them.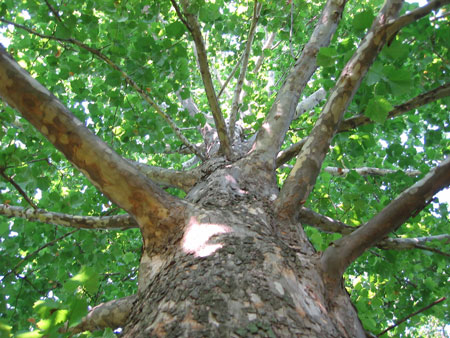 In that moment, I observed all the happiness around me – other families walking out and proudly hugging their kids, my own kids excitedly talking about the performance with their dad, and the music teachers huddled in a circle each holding their bouquet of flowers and laughing. We sat there for a long while, exchanging comments and smiling at each other. There was no rush, there was no hurry, there was no place to be except right in that moment at hand.
I took that moment for myself and savored every minute. I felt at peace, I felt present. I wasn't thinking about what had been, or what was coming next, or reaching for my smartphone to see what I had missed. I was simply inspired and content. Dolce far niente.
These dolce far niente moments are in stark contrast to my usual days of utter chaosness. You know what I'm talking about, juggling work, kids, meals, pick-ups, drop offs, homework, and my need to squeeze in some couple time as well as "me" time, and daily exercise.
When and where can I practice dolce far niente?  Well, all I have to say is "where there's a will, there's a way."
I strongly believe we all need a little more dolce far niente in our lives, we should not let these moments be too few and far between. It's time to let go of the guilt associated with doing nothing and seek/create/enjoy these moments and hold them close to our hearts. After all, wouldn't you rather find peace of mind, relax and enjoy life over being busy?
Stay tuned for an upcoming article on how to incorporate dolce far niente into your life.
In the meantime, let me know if and how you dolce far niente?